Posted by Laura on 2021 Sep 2nd
Introducing the all new InControl Active Air! It's a flexible and breathable diaper that will allow even the most active of wearers to get through the day with ease!
It's loaded with revolutionary features such as an extra soft waterproof non-woven outer, plastic backed inner pad for extra leak protection, and Hook & Loop style fasteners which allow for numerous adjustments throughout the day. Providing up to 8 hours of protection, the Active Air will leave you feeling confident while you are active throughout the day!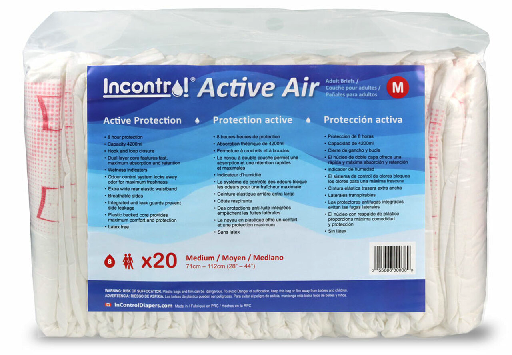 Comfort was one of our top priorities when designing what we wanted to be the perfect diaper for daytime wear. The generous ultra-stretch waistband at the back keeps things in place for even the most active individuals. The breathable side panels also allows for improved airflow while the internal plastic core prevents leaks and conceals odors.
Another great benefit to the Active Air is how many come in each bag! All sizes of the InControl Active Air includes 20 diapers per pack, meaning not only are these some of the most comfortable and effective diapers you'll find anywhere, they're some of the most affordable as well!
Large sized Active Air diapers feature new and improved waist measurements. They are smaller than the Large sizing other InControl diapers have, meaning they should now provide a better fit for those who wear large currently. It should be a more true Large fit that is now more equally placed between Medium and XL sizes.
Large sized InControl Active Air diapers now fit 33" - 42" instead of 39" - 44"
Don't sweat when it comes to incontinence supplies, stay cool and collected with the all-new InControl Active Air featuring breathable side panels and a PVC core that's guaranteed to keep you feeling comfortable and leak free all day long.

Click here to order yours today!